Starburn is a high energy rock band playing the music of the late 60's and early 70's. Remember Vanilla Fudge, The Doobie Brothers, Chicago, Led Zeppelin, Pink Floyd, Santana, Cream and many more? Starburn will take you there! Starburn is based in Colorado Springs, Colorado and seeks opportunities to play at art centers, festivals, concert halls, private events and select night clubs throughout the western United States.
Starburn was formed in 2010 by long -time Colorado Springs musicians Dale Creel-guitar, Jack Baker-drums, Russ Kleiner-bass, recently added female vocalist Pamela Heath and our newest member keyboardist Robert Clearwater. With three lead vocalists Starburn has great depth and feeling. Every performance features spot-on three part harmonies that convey the excitement and intensity of the mood of the times! Starburn delivers high energy, exciting, danceable, familiar music that you won't hear performed anywhere else!
Balanced Rock: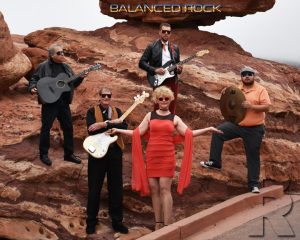 The Colorado-based rock band BALANCED ROCK is named after the famous 900-ton natural red sandstone rock formation located in the scenic Garden of the Gods nature site in their hometown of Colorado Springs, CO. Like the uniqueness and rarity that balanced rocks appear in nature shaped by the forces of nature windswept and the slow erosion of time, precariously perched seeming to defy gravity, likewise, the rock group BALANCED ROCK, is a one-of-a-kind musical force of nature.