DUE TO A COVID SITUATION WITH THE BAND, THIS EVENT WAS RESCHEDULED. NEW DATE IS FEBRUARY 26th.
Beloved local Rock Vocalist Patti Mack of the Patti Mack Band and formerly of Whiskey Fingers Classic Rock Band, is recovering from a serious case of Covid and it will be a while until she is in full voice and ready to return to the spotlight. Please join us for a night of live music performed by her friends and colleagues from three fun local classic rock bands: Last Band on Earth, The VooDoo Hawks and the Patti Mack Band featuring guest vocalists- all who are coming together to show her their love and support as she works toward a full recovery.
PROCEEDS FROM THE SHOW WILL GO TO: CASA _ Mission: Change a Child's Story, and One Nation Walking Together
Last Band on Earth
The Last Band On Earth is really two bands… maybe three.
An Original Rock recording act, and a nightclub act covering a wide variety of popular Rock hits from the 70's, 80s, 90s, and newer, as well as Rockabilly/Swing, and a Pink Floyd Tribute.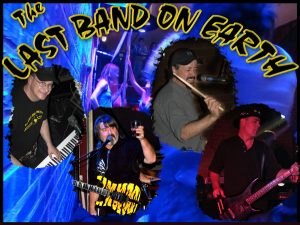 The band has released two CDs on the Renegade Arts label and currently working on the third, contributed to Queen and Kiss tribute albums for Italy's Adrenaline Records, had extensive radio play around the globe, had four number one songs on MP3.com, had our single -Party In My Pants- featured in a movie, and played countless concerts working with major label artists.
Their shows are like a box of chocolates… sometimes sweet and nutty, sometimes gooey in the middle, but always full of surprises! So we invite you to join our wild galactic ride. Throw your cares, your angst, and your political correctness out the porthole and just have some crazy fun with us as we plow through the universe and laugh at Armageddon! Rock While You Can!
VooDoo Hawks
The VooDoo Hawks are a Colorado Rock & Roll Institution
Blending their instruments and vocals with Americana, Blues, Cajun, & Roots Rock, they've become a spellbinding force that cannot be denied. When asked to describe their brand of music they simply call it "Roadhouse Rock & Roll". Formed in 1998, they averaged over three hundred shows per year and became a mainstay at major motorcycle rallies and A-list music festivals. Their new found popularity placed them on stages playing along with such legends as Blackberry Smoke, Tab Benoit, 38 Special, Leon Russell, Jeff Healey, Dick Dale, Johnny Winter, Marshall Tucker, The Outlaws and many many more. They've built their fan base the old fashion way, on the road & one fan at a time.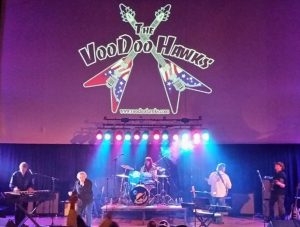 Singer songwriter Rikki Dee Hall started his artistic journey immersed in the influences of Gospel, Country, Blues, and Rockabilly in his hometown of  Walhalla, SC. At the tender age of five, he played piano at his local church and by his eighth birthday, he received his first guitar as a birthday present. As an adult, he has shared the stage with many of the top bands of the time including The Allman Brothers, Grand Funk Railroad, Savoy Brown, Humble Pie, and Z Z Top to name but a few. After moving to Colorado by way of the US Army, Rikki Dee met guitarist Steve Petrohoy in 1994 .

Guitarist Steve Petrohoy began playing in 1969, attributing his influences to Eric Clapton, Stevie Ray Vaughn, Dickie Betts, Gary Moore, Vince Gill, and Brad Paisley. Originally from Bethlehem, PA, Steve joined the band in 2013 and brings a soulful touch to their trademark sound.
Skip Moore's band mates joke that his birth was suspiciously near the time of the aliens' crash in his hometown of Roswell, NM. Joining The VooDoo Hawks in 2012, he brings his inimitable keyboard skills, harmony vocals and jazz influences to the group. A veteran of the US Army Band, he spent his formative years soaking up sounds of The Beatles, Hendrix, Gershwin, Steely Dan, Yes, Tower of Power, Chicago, and CSNY.
Every bassist's role is to hold the bottom down, and no one does it better than San Diego native, Chris DeMott. He became a Voodoo Hawk in 2003. With influences ranging from McCartney to Claypool, he brings a hard-edged vibe to the band's blues rock sound.  He devotes his talent to the overall sound of the band's recordings as he is also an excellent recording engineer.
Paul Moss rounds out the band's lineup with his rock solid abilities on drums, recently joining in 2015. From New Orleans, his unique style adds much to the band. Citing his influences as Alex Van Halen, John Bonham, and Ian Pace, he puts the final touch to the powerhouse rhythm section of The VooDoo Hawks.
The Patti Mack Band with Special Guest Vocalist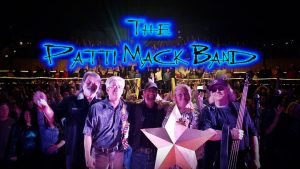 Formed in 2018, Patti Mack Band is a five-piece band lead by female singer, backed up by seasoned veteran musicians with Rich Horn on guitar, Billy Wa on keys, Casper on bass, and Howie Heyliger on drums (all from The Last Band on Earth).
The result of this group is an eclectic mix of Classic Rock songs ranging from Janis Joplin, Jefferson Airplane, Fleetwood Mac, Heart, The Pretenders, and Stevie Nicks, to Cream, Steppenwolf, the Kinks, The Who, The Rolling Stones, The Doors, Creedence Clearwater Revival, The Doobie Brothers, The Eagles, Lynyrd Skynyrd, Tom Petty, Stevie Ray Vaughn, Foreigner, Styx, Head East, Van Halen, Queen, Pink Floyd, and more.