All Aboard is a 9-piece band specializing in pop, funk, rock, blues with a touch of jazz. We, as All Aboard, consider ourselves as a family that never stops growing. Welcoming othersto see what we're made of and feel, live, and be in the moment with us. Music, for us, is a soulexpression. Many of us have extensive improvisational jazz, blues, and surprisingly heavy metal
background. These Polar Opposites of genres have given our listeners an almost indescribable
funky new sound. Only to be described as All Aboard!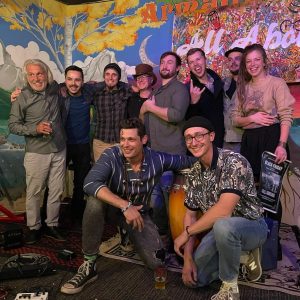 Kip, the guitarist/founder of All Aboard, moved to Manitou Springs in 2018. He sat down in his home studio one day when he heard a set of drums played by his new neighbor Daniel. It was only the beginning of the soon-to-be All Aboard band's creation. Our current bass player, Daniel, moved there with his wife, Chayilah, a singer. Both Daniel and Chayilah are into heavy metal rock and had previously been in a metal band prior to moving to Manitou Springs. The three of them play music together in Kip's new home studio. Not too long after, another neighbor Kyle started playing guitar and singing with the trio. The four began writing songs and performing what they would call "Sunday music worship." Soon after, we began to pick up more musicians and prepared for the hard work of creating new music but this time as a family. Today with members ranging in experience and education in music. For example, Jeremy the band's pianist
graduated with a bachelor's degree in music education and attended college with one of our saxophone players Dalan. The All Aboard family began to grow, bringing more friends along for
the ride. A long-time friend of Dalan, Kenrick, joined us on saxophone and flute. It is the same
story with our talented drummer Tyler playing in a previous band with Jeremy. With all this love
and respect for one another, our music brings a unique, exciting danceable sound, with positive
lyrics written by our two singers, Kyle and Chayilah.
All Aboard is all about family and getting the community involved in our music, culture, and
image. In solidifying our name and our first steps into the manitou music scene, we decided to
host a banner paint party in the Park during drum circle Thursdays. This banner is proudly hung
at each concert and is a testament to our love for the community. Audrina, All Aboard's
manager/graphic designer, fully embodied our story into our logo and merch to represent
Manitou Springs, the community, and the band.
https://www.allaboardslaps.com
https://www.youtube.com/channel/UCIZnOWOXCoUhYzQhFuBaEDA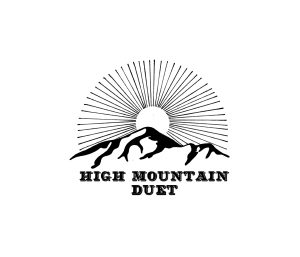 Playing original, traditional, and contemporary Americana, High Mountain Duet is a heartfelt folk duet from the hills of Manitou Springs Colorado. James and Samantha Galloway combine traditional acoustic melody with playful duet harmonies influenced by many of the great duos from Johnny Cash and June Carter to Gillian Welch and David Rawlings.